If you're a (African) Nigerian entrepreneur or freelancer looking to accept payments online, you may have heard of Stripe – a popular payment processing platform used by businesses all over the world. However, setting up a Stripe account can be challenging if you're based in Nigeria, as Stripe doesn't currently support Nigerian accounts. In this article, we'll provide a step-by-step guide on how to open a verified Stripe account in (Africa) Nigeria.
Kindly note that Nigeria is an African Country, and i will be using Nigeria in replacement of Africa so you our reader will understand
Are you looking to open a verified Stripe account in Nigeria and integrate it into your e-commerce store or business website? Look no further! As a Nigerian with a functional Stripe account, I can guide you through the process of setting up and verifying your account to start accepting payments in various ways.
Whether you have a Shopify store, a WooCommerce store, or any other online platform, having a verified Stripe account is crucial for accepting payments securely and efficiently. As a non-US citizen, you might have wondered if it's possible to use Stripe in Nigeria or other African countries. The good news is that it's possible, and I can help you set it up.
In this guide, I will provide step-by-step instructions on how to create a verified Stripe account in Nigeria or any other country, allowing you to accept online payments with ease. Whether you're based in India, Pakistan, or anywhere else in the world, this guide is for you.
So, what are you waiting for? Follow this guide to set up your verified Stripe account and start accepting payments today!
Requirements to Open a Stripe Account in Nigeria (2023 Update)
To open a stripe account in Nigeria, as a foreigner, you need the following things:
LLC Company Formation Documents.
EIN/Federal Tax ID.
US Physical Address.
US Phone Number.
It's easy, and in a few minutes, you're done. Then you wait for another 15 – 30 days for processing and that's all.
In this post, I will be guiding you on how to get all of these things done without stress.
To form an LLC Company in the US and get your EIN, We would be doing that at Incfile, and the state we would be forming our LLC in California. If you have a US address that is from another state, then you can use that address in the registration.
There are two reasons for this, first, the shipito address is mainly in California, so you need to use the exact address in your shipito dashboard or you can visit Businessanywhere.io to get a different US address. Also for some states, there is a tax fee and states like Delaware collect a $900 annual tax fee or your LLC formation ceases to exist.
Forming an LLC in Delaware also attracts a $500 annual tax fee as well.
You should consult a legal counselor to help you with anything tax, as this article is not meant to be legal or tax advice.
There are so many options for forming an LLC in the US, but for the sake of this tutorial, we'll be using the Incfile business partner to form an LLC.
Here's the list of Other Reliable partners you can use to form an LLC in the USA;
IncFile
BetterLegal
MyCompanyWorks
ZenBusiness
Business Anywhere
Northwest Registered Agents
You can feel free to use any of the mentioned partners listed above to form your LLC. My #2 favorite option is Business Anywhere, they have everything including virtual US addresses for non-us citizens. Feel free to give them a try.
So, let's get started and form your LLC Company and get the necessary things you need to open a stripe account in Nigeria without hassles.
LLC Formation and EIN (with Incfile)
At Incfile, you're going to form your LLC and get your EIN/TAX ID. Follow the simple guidelines below to complete the signup. It's easy and takes just a few minutes. All you have to do is choose your state, enter your business name, and form your LLC!
Step 1: Go to Incfile.com
When you arrive at the Incfile home page, click on the Start My Business button and you will be redirected to the business registration page.
Step 2: Select Entity Type and Filling State.
In your entity type, select Limited Liability Company (LLC), and in the Formation State, select California, or any other state you prefer, as long as you have an active address in that state.
Once you select the type of business registration you want, you'll be taken to the pricing package plan. See the image below:
Step 3. Select a Package Plan for your Business Registration
You need to choose a business registration package based on what you want to achieve with your business.
Note: You need to select either the Gold plan or the Platinum plan because that are the packages that will get you an EIN. So select a plan and continue.
Step 4. Enter Your Personal and Business Details
The next form will request your personal info and also your business information, so make sure that everything is accurate.
Here, you will need two things; a US phone number and a US address. Don't worry I'll show you how.
It's very important that you have a working email address and phone number because you will be contacted with it.
To Get a US phone number, you have two options;
To get a USA phone number to use for the stripe account registration, check How to Get a Free USA Number for Online SMS and Calls
To Get a US address, you also have two options;
Option #1. You can visit www.shipito.com and get one for free
In your US Address, note that CA means California.
Please make sure that you enter your exact address the way it's on your shipito dashboard.
Click on Save and Continue.
Option #2. You can visit Business-Anywhere and get a paid US address for yourself and your business.
Step 5: Answer all Questions about Your Business and make sure you select the EIN/Federal TAX ID option
The interesting part about Incfile is they get an EIN for you at $49, which is considered the cheapest place to get one. Others charge from $95 and above.
You need to include the EIN/Federal Tax ID which is very important!
Remember: EIN can take up to 90 days to be processed for non-us citizens, so be patient with them.
Also, make sure that you select the operating agreement option because it is very important. It provides proof you own the business.
In case any problem occurs in the future, you can be able to correct them with your operating agreement and in case Stripe requires it.
Select the operating agreement and proceed with the form.
Add this addon to the cart and continue.
Step 6: Make Final Payments
In the end, you'll have all the necessary services and add-ons for just $239 only; and it includes State Filing Fee, EIN, and Operating Agreement.
Other formation companies charge a lot for offering this service but Incfile Charges a $0 Service fee.
Now you need to make payment using either a Debit/Credit Card or PayPal.
For the Delivery Option, you can select $0 free delivery (Electronic Delivery) and they will be delivered to your email.
Remember, If you want your EIN to be delivered by email, make sure to select the electronic (free) delivery option.
Finally, that is all. You've successfully created your LLC Business Name and EIN/Federal Tax ID in the United States.
Other formation companies charge a lot for offering this service. Many formation companies charge from $400 (N288k) – $1000+ (N740k) to form a US Company depending on the features.
Incfile makes things a lot easier for you, and more affordable for you and you get to spend just $239 if you follow the procedures above.
NOTE: If you do not have a dollar card for payment, there are two options for you to get a working dollar card.
Get from Klasha
Get Via Chippercash
Next, you'll need to set up a Stripe account with the details they'll deliver to you within 7 days since the California Delivery Time is 7 days.
NOTE: Your EIN may take up to 90days to arrive because you are applying as a non-us citizen.
You will be sent a form to fill out for your EIN, so I'm going to show you how to fill it out when you receive it.
Remember, they no longer accept electronic signatures, so, to fill this form, you will have to print out the form, fill it out manually, scan it, and send it back to them.
How To Fill Out EIN Form
The first form they will send you is electronic; so make sure to fill it out correctly. If you make any mistake, they will have to send you another form which you will have to edit manually as I explained above.
The Electronic form looks like this: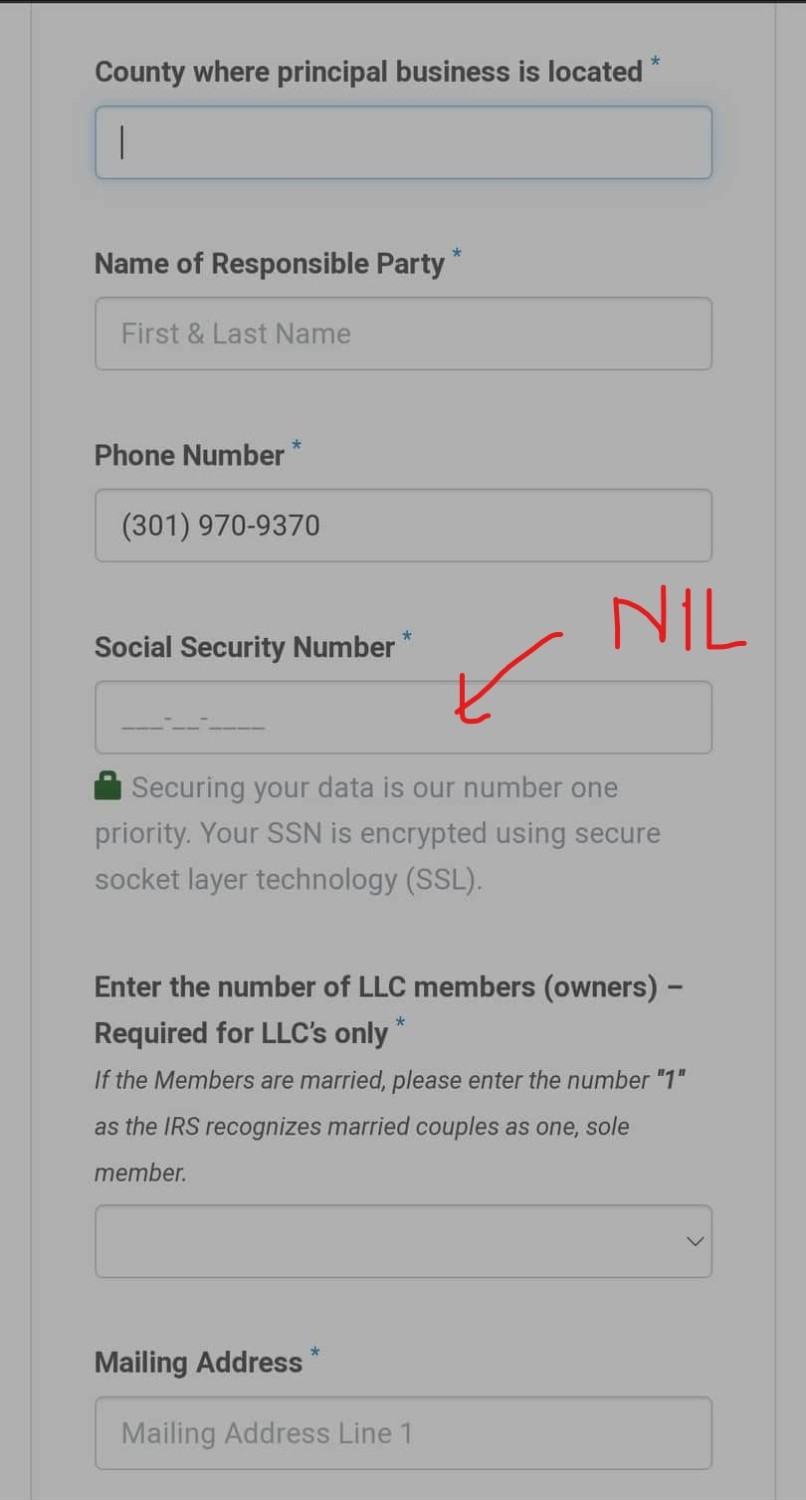 Make sure you use the exact address in your shipito address, and in the space for SSN, write FOREIGN there. This will indicate that you are applying as a non-us citizen.
How To Fill out the Manual EIN form: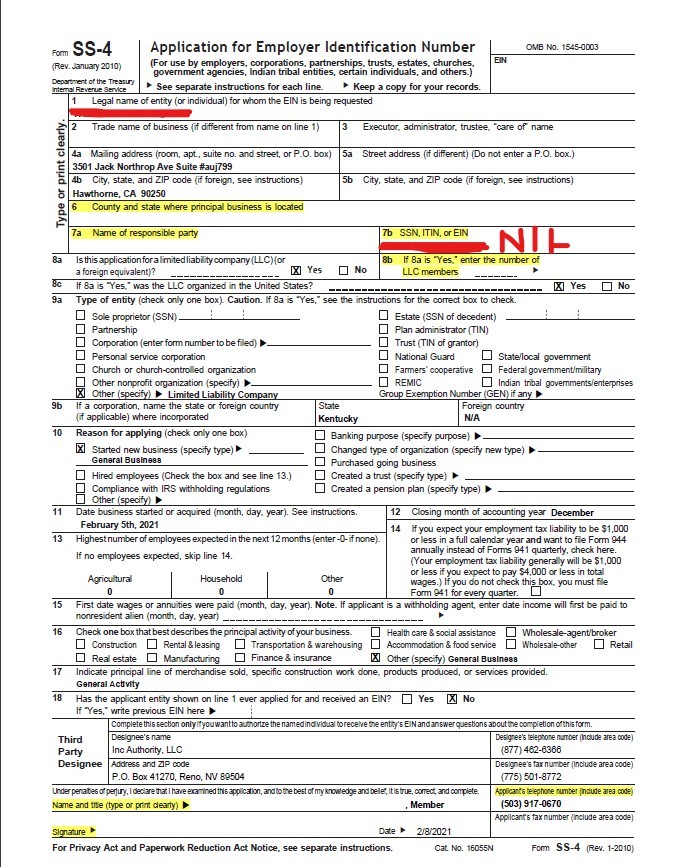 You are required to fill out the highlighted area on the form. Please make sure to use your Nigerian Address (6).
In the (7a) column, enter your name exactly as it is when filling out the LLC form.
In the (7b) column, write FOREIGN in the space for SSN/ITIN/EIN; this will indicate that you are a non-us citizen.
In the (8b) column, write (1).
At the bottom, write your full name and then sign.
Overview of the Steps for filling out the EIN form:
Step 1: Download the form and print it out (Please make sure the file is clearly printed out)
Step 2: Fill out the form with your hand (write in Capital Letters) and Sign it.
Step 3: Scan the document that you filled out and send it to your email. (Don't use your phone to scan; make sure to use a professional scanner)
Step 4: Send the file back to them for processing…
Follow it up and make sure that they have received the form you sent.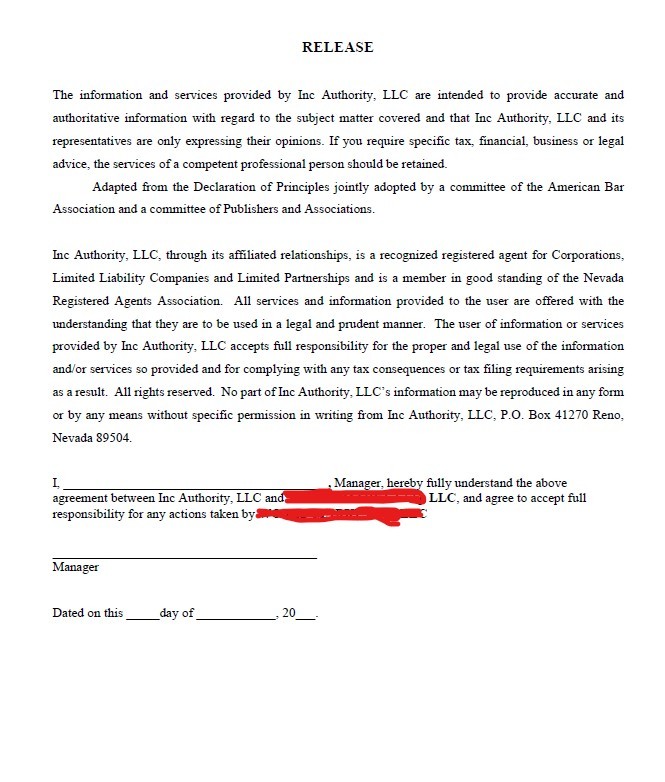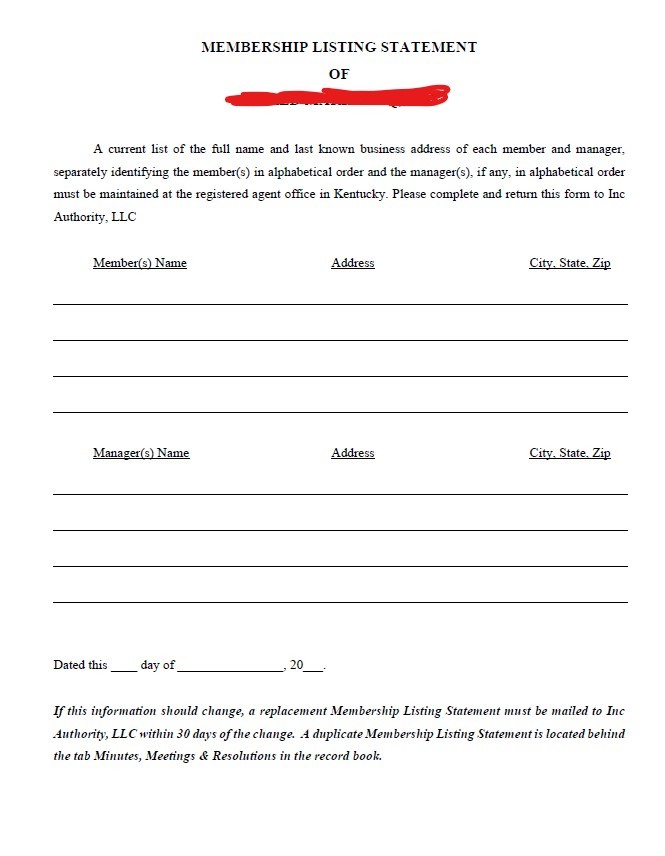 If you have a co-founder, both of you can fill out this form, but if you are the only person, then fill out only one space of the form and leave the rest empty.
Once this is done, send the form back to them and verify that they have received it by contacting your account manager. This will help speed up the process.
NOTE: Your EIN may take up to 90days to arrive because you are applying as a non-us citizen.
How to Setup a Verified Stripe Account?
After you must have formed your LLC and EIN/Federal Tax ID and they have been delivered.
You'll need to use the details to setup a verified Stripe account and you need to be careful while doing this because their bots are intelligent enough and conversant to detect any mistake you make.
Step 1. Visit: Stripe.com and open a new account. Make sure that the Country you select is the same as the one on your LLC documents, (In our case, it is the United States).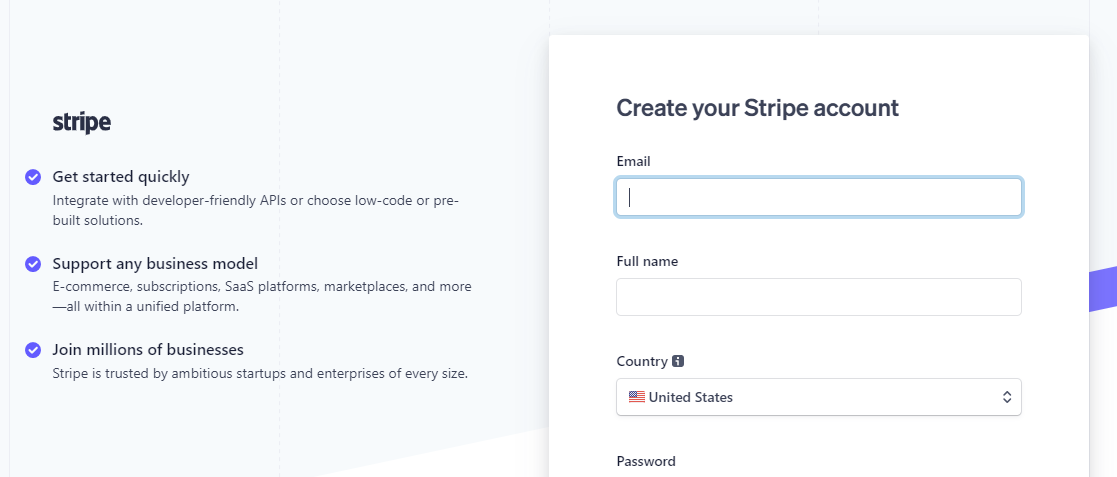 Step 2. Confirm Your Email and log in to Your Stripe Dashboard
Check your email and confirm your email using the link they'll send to you. Once you have done that, you will be taken to the next page as shown below:
Click on Activate payments, and you'll be taken to the next page where you will enter the details of your business as it is on the documents you got after registering your business.
Step 3. Enter Your Business Details for Verification
If you registered your business in the USA, make sure you select the United States as the country; the Type of business should be "Company"; Business Structure should be the exact type of business registration that you used for your business [e.g. Single-member LLC].
Click on Continue to proceed to the next step.
Enter Your Business Details
Enter your business details exactly as it is on the documents, and also make sure that you enter your EIN in the provided space. Once you are done with this, proceed to the next step.
Step 4. Enter Your Personal Details
This part is tricky for most people, so pay close attention to this step. Take a closer look at the highlighted texts in the images below and do exactly as I say.
NOTE: Make sure you select your current location as your personal address and detail. The reason is that you may be required to verify your Identity using your country's ID card. Anyone from anywhere in the world can use their home country here, so feel free.
As you can see in the image where I drew an arrow, click on it and change that SSN to your country's ID type.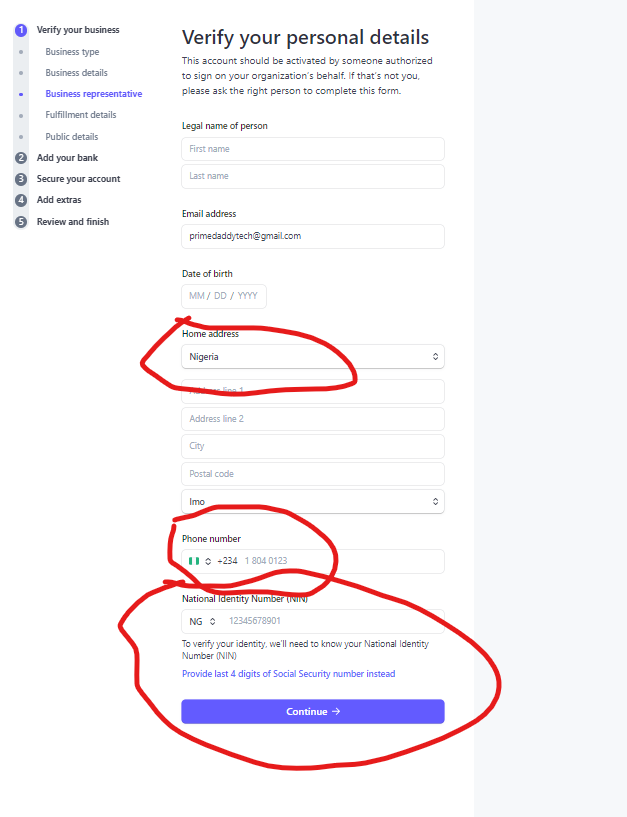 As you can see, I have changed the country from USA to Nigeria and now, I can enter my ID card number instead of an SSN. You can do the same for whatever country you are from.
Also, you can do the same for the phone number section; use your home country's phone number as well if you wish.
Enter Details About Your Business Payment/Product Fulfilment
These details will help Stripe understand how you provide your products and services to your customers.
Once you are done, click on continue to proceed to the next step.
How Will Your Business Appear to the Public
Carefully enter your business details exactly as you want them to be visible to the public. For best practice, make sure you use the same information in your business or your company's office address so that your customers can reach you when necessary.
Step 5. Enter Your Bank Account
If you do not have an account with the listed banks there, just click on the highlighted text as shown in the image above, and enter your virtual USA bank account details.
There are two best Options I will recommend for you.
Visit www.wise.com
Visit www.payoneer.com
Any of these two banks will create a USA bank account for you free of charge and you can then enter your banking details into your stripe dashboard. It's very simple to do, all you need to do is follow the step-by-step instructions for each platform and you will be done in no time.
That is it, guys! Go ahead now, review, and submit your account application for verification. The Stripe team will review your application and verify you as long as your business details match the ones they find on your EIN. That is why it's very important to have your EIN ready before applying.
Congratulations! Your stripe account is fully set up and you can now start receiving payments worldwide.
Conclusions
After following the guides in this post, you should be able to form your LLC, get your EIN, and set up your Verified Stripe account for your business.
Here's the summary:
Form your LLC and EIN at Incfile.
Set up a stripe with your LLC and EIN that you have gotten by following the steps above.
Start using Stripe for dropshipping or other business!
If you have any questions and are confused about any process, do let us know by dropping them in the comment box.
Don't forget to share! It's quite a helpful guide on how to open a stripe account in Nigeria (for non-US citizens or residents (Non-Supported countries)!
Frequently Asked Questions
Can I use my Country ID to verify my Stripe identity without using a US ID?
Answer: Yes, stripe gives the option to select your home country and upload your ID. I have explained this in the article above.
After forming my LLC at Incfile, they sent me additional forms to fill out, how do I fill them out?
Answer: After forming your LLC, they will send you an EIN form to fill out and another form to enter the list of members.
Filling in the EIN form is easy, enter your full name where they needed it, and enter your US address where it's wanted.
In the SSN section, enter FOREIGN in the box. This means you're a non-US citizen and has no SSN or EIN yet.
Your EIN number may be delayed by the IRS because of COVID-19.
In the members' form, enter your full name and enter your US address. If you're a team, enter their names and US address. (US address can be the address you got from shipito or the one you bought).
Can I add more services after submitting my application?
Answer: Yes you can. All you need to do is call them or send them a mail and they will put you through.