Czechia, also known as the Czech Republic, is a landlocked country located in Central Europe. This captivating country is renowned for its rich history, charming towns, and stunning landscapes.
From medieval castles to lush forests, Czechia offers a diverse range of beautiful places that cater to all kinds of travelers.
Whether you are an architecture enthusiast, a nature lover, or a history buff, Czechia has something unique to offer. In this article, we will take you on a virtual tour of the most beautiful places to visit in Czechia, where you can witness the splendor and magic of this enchanting land.
Most Beautiful Places to Visit in Czechia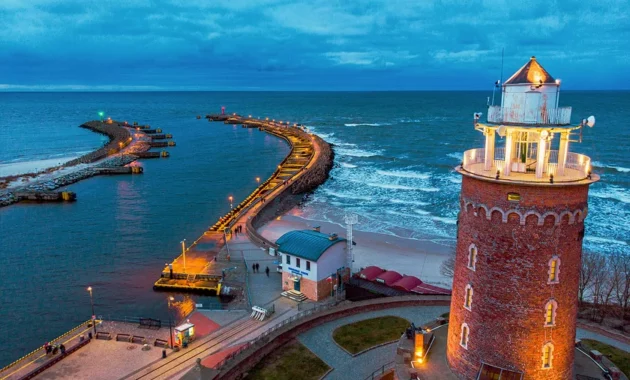 1. Prague – The City of a Hundred Spires
Prague, the capital city of Czechia, is a true masterpiece that combines history, architecture, and culture. With its iconic Charles Bridge, Prague Castle, and Old Town Square, the city boasts a fairytale-like atmosphere. Wander through its cobbled streets, enjoy the vibrant nightlife, and be captivated by the breathtaking views from the Petřín Lookout Tower. Prague is undoubtedly a must-visit destination for any traveler.
2. Český Krumlov – A Charming Medieval Town
Nestled in Southern Bohemia, Český Krumlov is a postcard-perfect town straight out of a storybook. Its historical center, a UNESCO World Heritage Site, is adorned with colorful Renaissance and Baroque buildings. The Český Krumlov Castle, one of the largest in Europe, overlooks the picturesque Vltava River. Stroll through its enchanting streets, visit the Egon Schiele Art Centrum, and experience the medieval charm of this fairy-tale town.
3. Karlovy Vary – A Spa Town with Healing Springs
Karlovy Vary, also known as Carlsbad, is a world-renowned spa town famous for its hot springs and healing waters. Situated in the heart of Bohemia, this elegant town offers luxurious spa resorts, lush parks, and beautiful colonnades. Indulge in the therapeutic waters, taste the traditional Becherovka liqueur, and enjoy the relaxing atmosphere that has attracted visitors for centuries.
4. Kutná Hora – A Historical Gem
Kutná Hora, located east of Prague, is a historical gem filled with impressive architecture and fascinating history. The town's historic center, featuring the St. Barbara's Church and the unique Bone Church (Sedlec Ossuary), is a UNESCO World Heritage Site. Step back in time as you explore the medieval charm of Kutná Hora and learn about its significant silver mining past.
5. Bohemian Switzerland National Park – A Nature Lover's Paradise
For nature enthusiasts, the Bohemian Switzerland National Park offers a paradise of sandstone formations, deep forests, and breathtaking gorges. Wander along the iconic Pravčická Gate, the largest natural sandstone arch in Europe, and take in the awe-inspiring beauty of this protected landscape.
6. Brno – The Vibrant City of Art and Science
Brno, the second-largest city in Czechia, is a dynamic hub of art, science, and culture. Visit the iconic Špilberk Castle, explore the fascinating Moravian Museum, and admire the modernist architecture that dots the city. Don't forget to savor some traditional Moravian wine in the lively local pubs.
7. Hluboká Castle – A Fairytale Residence
Hluboká Castle, often compared to England's Windsor Castle, is a stunning neo-Gothic residence surrounded by beautifully landscaped gardens. Located near České Budějovice, this architectural gem offers a glimpse into the aristocratic lifestyle of the past.
8. Lednice-Valtice Cultural Landscape – A UNESCO Gem
The Lednice-Valtice Cultural Landscape is a UNESCO-listed site that boasts an exquisite blend of architectural styles and breathtaking natural beauty. The Lednice and Valtice Castles, along with the serene countryside, make this area a favorite among travelers seeking tranquility and elegance.
9. Olomouc – A City of Historical Treasures
Olomouc, with its impressive Holy Trinity Column and the beautiful Archbishop's Palace, is a city that boasts a rich history and stunning landmarks. The city's vibrant atmosphere, lively markets, and historic fountains make it a delightful destination to explore.
10. Adršpach-Teplice Rocks – Nature's Sculptural Masterpieces
The Adršpach-Teplice Rocks, situated in northeastern Czechia, are a collection of bizarre sandstone formations that resemble natural sculptures. Hike through the labyrinthine paths and be amazed by nature's creative prowess.
11. Telč – A Harmonious Renaissance Town
Telč is a small Renaissance town with a picturesque square surrounded by colorful houses and arcades. Designated as a UNESCO World Heritage Site, Telč will take you back in time with its well-preserved architecture and charming ambiance.
12. Moravian Karst – An Underground Wonderland
The Moravian Karst is a fascinating underground world filled with stunning caves and gorges. Visit the Punkva Caves and take a boat ride on the subterranean Punkva River to witness the mesmerizing beauty hidden beneath the earth's surface.
13. Šumava National Park – Wilderness and Tranquility
For those seeking unspoiled wilderness, Šumava National Park is an ideal destination. This vast protected area is home to dense forests, glacial lakes, and a diverse range of wildlife, making it a paradise for hikers and nature lovers.
14. Litomyšl Castle – An Architectural Marvel
Litomyšl Castle, a UNESCO World Heritage Site, is a splendid example of Renaissance architecture. Its impressive facades and beautifully landscaped gardens make it a significant historical landmark in Eastern Bohemia.
15. Pilsen – The Birthplace of Pilsner Beer
Pilsen, the city that gave birth to the world-famous Pilsner beer, offers a fascinating journey through beer history. Tour the Pilsner Urquell Brewery, enjoy a pint of fresh Pilsner, and explore the city's vibrant cultural scene.
16. Konopiště Castle – A Stately Residence
Konopiště Castle, located just outside of Prague, is a grand and historic residence with beautiful gardens and a museum featuring Franz Ferdinand's personal belongings. Discover the castle's rich history and its ties to one of the most significant events of the 20th century.
17. Třebíč – A Unique Jewish Heritage Site
Třebíč is home to an exceptional Jewish heritage site, including the Jewish Quarter and the Basilica of St. Procopius. This UNESCO-listed destination offers a glimpse into the historical coexistence of Jewish and Christian communities.
18. Jindřichův Hradec – A Castle in a Fairy Tale
Jindřichův Hradec Castle, the third-largest castle complex in Czechia, is a splendid architectural wonder filled with historical artifacts and art collections. Explore its chambers and gardens while feeling as if you've stepped into a fairy tale.
19. Litoměřice – A Charming Riverside Town
Litoměřice, situated along the banks of the Elbe River, boasts a historic center with well-preserved Baroque and Renaissance buildings. Enjoy a leisurely walk along the riverfront and discover the town's rich cultural heritage.
20. Krkonoše National Park – A Winter Wonderland
Krkonoše National Park is a mountainous wonderland that transforms into a winter paradise during the snowy months. Ski down the slopes, breathe in the fresh mountain air, and indulge in the picturesque beauty of the Czechia's highest mountain range.
21. Holašovice – A Traditional South Bohemian Village
Holašovice, a picturesque South Bohemian village, is a UNESCO World Heritage Site featuring a unique example of rural Baroque architecture. The village's charming farmhouses and tranquil atmosphere will take you back in time.
22. Podyjí National Park – Where Nature Thrives
Podyjí National Park, located on the border with Austria, offers an unspoiled landscape of forests, meadows, and the meandering Dyje River. Embark on a hike or a bike ride to explore the natural wonders of this hidden gem.
23. Mariánské Lázně – Elegance and Wellness
Mariánské Lázně is a refined spa town known for its elegant architecture, mineral springs, and wellness resorts. Relax in its luxurious spas and enjoy the healing properties of the local springs.
24. Brdy – A Nature Lover's Retreat
Brdy, a protected landscape area, is a serene retreat for nature lovers seeking solitude and tranquility. Its rolling hills, lush forests, and scenic viewpoints make it a hidden gem off the beaten path.
25. Znojmo – A Wine Lover's Delight
Znojmo, located in South Moravia, is a delightful town renowned for its wine production. Tour the local vineyards, savor regional wines, and enjoy the lively atmosphere during the annual wine festivals.
FAQs:
Q: What is the best time to visit Czechia?
A: The best time to visit Czechia is during the spring and autumn months, from April to June and September to October. The weather is pleasant, and you can avoid the peak tourist season.
Q: Is it easy to get around in Czechia without knowing the local language?
A: Yes, Czechia is a tourist-friendly country, and many locals speak English, especially in popular tourist destinations.
Q: Are the Czech people welcoming to tourists?
A: Yes, Czech people are generally warm and hospitable towards tourists. They take pride in their country's beauty and are eager to share it with visitors.
Q: What are the must-try dishes in Czechia?
A: Don't miss trying traditional Czech dishes like goulash, schnitzel, dumplings, and Trdelník, a delightful sweet pastry.
Q: Is Czechia a safe country for travelers?
A: Yes, Czechia is considered a safe destination for travelers. However, it is always wise to take general safety precautions and be mindful of your belongings, especially in crowded tourist areas.
Q: How can I travel between cities in Czechia?
A: Czechia has an efficient public transportation system, including trains and buses, making it easy to travel between cities and towns.
Conclusion:
Czechia, with its rich history, breathtaking landscapes, and charming towns, is undoubtedly one of the most beautiful places to visit in Europe. From the fairytale-like charm of Prague to the tranquil wilderness of the national parks, each destination offers a unique experience for every traveler. Whether you are exploring the majestic castles, immersing yourself in the local culture, or simply admiring the scenic beauty, Czechia promises an unforgettable journey filled with enchantment and wonder.