Microsoft through a Microsoft Website Monetization Platform is testing and would soon roll out a platform that aims to give publishers the opportunity to generate revenue from their websites and blogs using display ads and native ads inclusive. Microsoft also said through the testing platform says that publishers already using Google Adsense to monetize their sites can integrate Microsoft's ads into the same ad unit and the highest-paying ads will be displayed resulting to high CPC known as Cost Per Click.
In today's digital era, owning a website presents a lucrative opportunity to generate income through online advertising. Microsoft as a result is launching a powerful platform that allows website owners to monetize their sites effectively. By displaying high-quality and relevant ads, you can earn more money from your site while enhancing the user experience for your visitors. In this article, we will discuss about Microsoft website monetization, how to apply, frequenty asked questions and how you can optimize your website's earnings with Microsoft Advertising.
Read Also: How To Quickly Get Google AdSense Approval for a New Website or Blog
Microsoft is launching a website monetization platform
Microsoft is launching a website monetization opportunity for website owners to monetize their traffic and earn with Microsoft, the platform known popularly as Microsoft Publisher Center (Microsoft pubCenter) similar to Google Adsense, would allow website owners and publishers to place high earning ads on their website and blogs, Microsoft also promised to make the ads co-exist well with existing ads on websites and blogs (with Adsense for wxample) without facing issues with your existing ads.
Below is what to expect from Microsoft website monetization platform
Any small publisher or blog looking to build their audience and make it profitable through native ads can apply for and use the Microsoft monetization platform (Microsoft pubCenter)
Sites focused on travel, entertainment, sports, food, finance, auto, community, news, telecom, and others is also accepted to monetize with Microsoft monetization platform (Microsoft pubCenter)
Anyone looking to monetize their site with an easy code-on-page solution. No revenue or volume minimums, and no cost to sign up.
How to Join The Microsoft website monetization platform Waitlist
It should be noted that only 13 countries namely Australia, Brazil, Canada, France, Germany, Hong Kong, India, Israel, Italy, Mexico, Spain, United Kingdom and United States are currently allowed to join the waitlist, while the platform testing is currently available to publishers in the United States Only.
Frequently asked questions About Microsoft Website Monetization Platform
How much does Microsoft pay for my traffic?
The price paid by advertisers is set by a real-time auction, so the highest bid wins. The more your audience engages with ads on your page, the more you'll be able to earn from those ads.
What's the minimum traffic I need to serve ads?
No minimum traffic is required on your site for you to serve ads.
Can I block specific ads from showing? How?
Yes, you'll have the ability to block any content categories or advertisers you deem necessary. Feel free to discuss this option with your Microsoft contact to implement it.
How to Login and Signup for Microsoft Website Monetization Platform
To start earning more money from your site, you need to become a part of the Microsoft Advertising Network. Sign up for an account and provide details about your website. Once approved, you'll gain access to a vast pool of advertisers who are looking for platforms to showcase their ads.
To login and signup for Microsoft pubCenter to start monetizing with Microsoft monetization platform visit https://about.ads.microsoft.com/en-us/h/a/publishers and click on Join the waitlist as shown in the below image as the monetization platform is not officially launched yet by Microsoft, so you can join the waitlist so you can get first hand information and email from Microsoft when the platform launches.
Another advantage of the waitlist is that you will become one of the early adopters or publishers accepted into the program when it launches.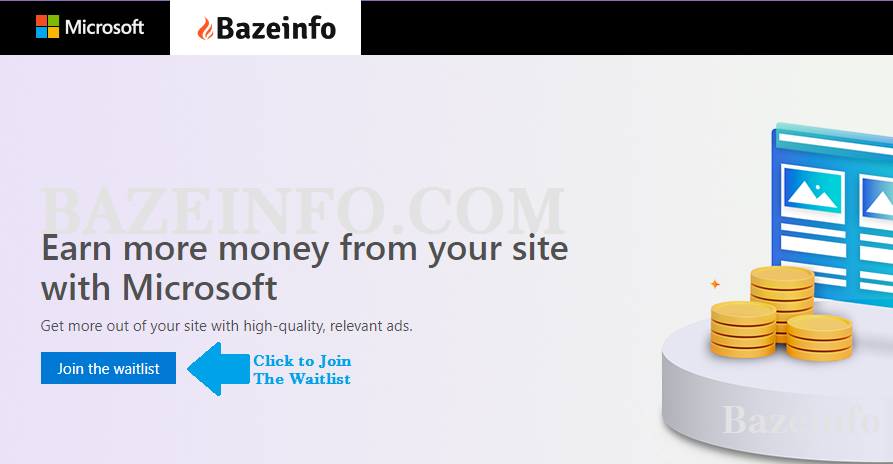 How to Maximize Your Earnings on Microsoft Website Monetization Platform
Implement Ad Placement Strategically: Effective ad placement is crucial for maximizing your website's earnings. Carefully consider where you position the ads on your site to ensure they are visible without being intrusive. Microsoft Advertising provides a range of ad formats and sizes, allowing you to choose the ones that best suit your website's layout and design.
Target Relevant Ads: Relevance is key to engaging your audience and boosting your earnings. Microsoft Advertising employs advanced targeting options, including contextual targeting, demographic targeting, and user interest targeting. By aligning ads with your site's content and the interests of your visitors, you can enhance their overall experience and encourage higher click-through rates.
Optimize Ad Performance: Regularly monitoring and optimizing your ad performance is essential for maximizing your earnings. Microsoft Advertising provides detailed analytics and reporting tools that allow you to track the performance of your ads. Analyze key metrics such as click-through rates, conversion rates, and revenue generated. Based on this data, make informed decisions about ad placement, targeting, and design modifications to improve overall performance.
Utilize Ad Extensions: Take advantage of Microsoft Advertising's ad extensions to provide additional information and entice users to click on your ads. Ad extensions offer options such as site links, call extensions, and location extensions. By incorporating these extensions, you can increase the visibility and appeal of your ads, resulting in higher engagement and potential earnings.
Consider Native Advertising: Native ads seamlessly blend in with the content of your website, enhancing the user experience while generating revenue. Microsoft Advertising offers native ad formats that match the look and feel of your site, providing a non-disruptive advertising experience. By choosing native ads, you can maintain the integrity of your site's design while optimizing your earnings.
Stay Updated and Experiment: The digital advertising landscape is continually evolving, and it's important to stay updated with the latest trends and features offered by Microsoft Advertising. Experiment with different ad formats, placements, and targeting options to find the optimal combination that works for your website. Regularly test and refine your strategies to keep your earnings on an upward trajectory.
Meanwhile, Microsoft promised that the ads that will be displayed on the publisher's websites will be visually appealing and will seamlessly blend with the site's experience. This will lead to a potential increase in ad revenue.
The monetization platform is currently in the test stage and therefore any user can join the waitlist. There are no website traffic or revenue volume restrictions. However, there is no public registration page available.
By leveraging Microsoft Publisher Center (Microsoft pubCenter), you can unlock the full earning potential of your website. With high-quality, relevant ads, strategic ad placement, and continuous optimization, you can enhance the user experience while maximizing your earnings. Take advantage of the powerful tools and features offered by Microsoft Publisher Center (Microsoft pubCenter) to make your website a profitable venture. Start today and discover the immense possibilities that await you in the world of online advertising.
Join The Waitlist! Good Luck…