Method 2: Getting A Free US Number on Textnow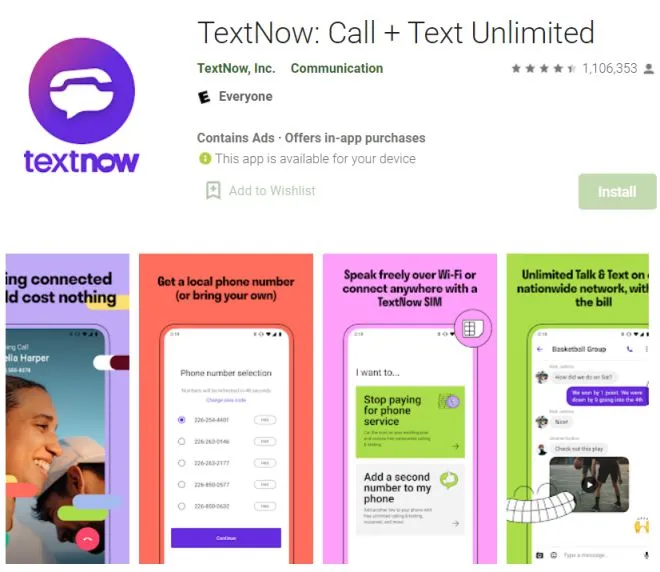 TextNow is a popular mobile application that allows users to make and receive phone calls, send and receive text messages, and access voicemail from a single platform. The app is available for free download on both iOS and Android devices, and it is also accessible via a web browser on a desktop computer.
One of the main features of TextNow is that it provides users with a free phone number. When you sign up for the app, you can choose a phone number from a list of available options. This phone number can be used to make and receive calls and texts just like any other phone number. This is particularly useful for people who want to maintain their privacy or who don't want to use their personal phone number for certain purposes.
TextNow also offers some other useful features, including customizable voicemail greetings, call forwarding, and the ability to use the app on multiple devices. The app also has a number of customization options, allowing users to choose from different themes and color schemes to personalize their experience.
While the app is free to download and use, there are some limitations to the free version. For example, users are limited to a certain number of minutes and texts per month, and there are ads that appear within the app. However, users can upgrade to a paid version of the app, which removes these limitations and provides additional features.
Overall, TextNow is a useful app for people who want to communicate with others using a free phone number. It is easy to use and provides a number of useful features, making it a popular choice for many users.
Textnow is quite easy to set up, unlike Google Voice which requires having a third party before you can have a USA number assigned to you. The flaw with Textnow is that it has a very strong security firewall and that makes it difficult for some VPNs to bypass it. And secondly, Textnow numbers work better on Business WhatsApp, therefore you might want to switch WhatsApps before proceeding with this step.
See how to get a US number on Textnow below:
Connect to a VPN but don't use any of the following VPNs (NordVPN, IpVanish, Windscribe, ExpressVPN, HMA, PIA, and other popular VPN apps) most times they don't work. You can use some of the VPNs listed below.
Now Download the Textnow app on your Android or iOS device, then click on sign-up. Fill in your details like Name, Username, Email and password. Then once you're done, you can now click on the "GET A FREE PHONE NUMBER" icon.
Then allow Textnow to access your location, you'll be given a free USA number based on your VPN location. Once a number has been assigned to you, you can now use the number to text and call your contacts in the US or Canada and as well register for WhatsApp and also use it for other online verifications.
Base on my personal opinion, i love and prefer TextNow to any other USA number  provider websites and app, its easy fast and free but your number will be reassigned if you leave it dormant for a long time without receiving any call, sms or send message with it – these is the only downside with TextNow unlike google voice that is yours forever.
Download TextNow PC App Here | Download TextNow Mobile App Here (apk) | Download IOS version
Follow the next page to see how to get a free USA number from Textfree incase TextNow didn't work for you, don't forget that i am sharing the top 5 ways to get a USA Number for Whatsapp and other verifications.